Realme GT India launch could be around the corner
Realme GT 5G भारत में जल्द हो सकता है लॉन्च, मिलेंगे धांसू फीचर्स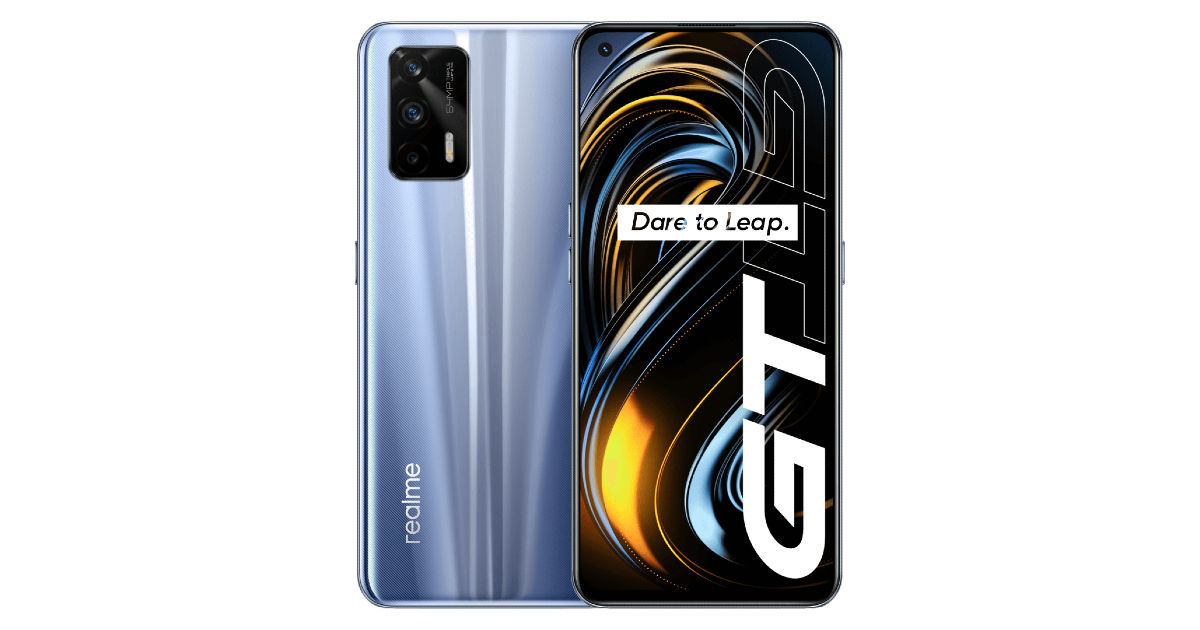 Realme GT India launch could be close as the phone is listed on the Indian IMEI database with model number RMX2202, as spotted by tipster Mukul Sharma. The handset originally launched in China earlier this month with high-end specifications such as the Qualcomm Snapdragon 888 SoC, 120Hz AMOLED display, 64MP primary camera, and a 4,500mAh battery. To recall, Realme India CEO Madhav Sheth recently said that the company was evaluating the Realme GT launch in India. While there's no exact launch timeline, it looks like the Realme GT will indeed go official in the country soon.

Realme GT 5G specifications
The Realme GT 5G flaunts a 6.43-inch FHD+ Super AMOLED display with punch-hole cutout, 120Hz refresh rate, 1000nits peak brightness, and Corning Gorilla 5. The phone ships with the Qualcomm Snapdragon 888 5G SoC coupled with Adreno 660 GPU, up to 12GB LPDDR5 RAM, and 256GB UFS 3.1 storage. The device runs Android 11-based Realme UI 2.0 custom skin out of the box and packs a 4,500mAh battery with 65W fast-charging support. Connectivity features include 5G Dual-mode, 4G LTE, Wi-Fi 6, Bluetooth 5.2, GPS, 3.5mm headphone jack, and USB Type-C port for charging and data sync.
As for the cameras, the Realme GT 5G has a triple camera system at the back, with a 64MP primary sensor, an 8MP wide-angle lens, and a 2MP macro lens. There is a 16MP snapper on the front for selfies and video chats. The phone measures 8.4mm in thickness and weighs 186 grams. The Realme GT 5G comes with a GT mode that enhances the performance of the device, an in-display fingerprint sensor, stereo speakers, Dolby Atmos, and Hi-Res audio.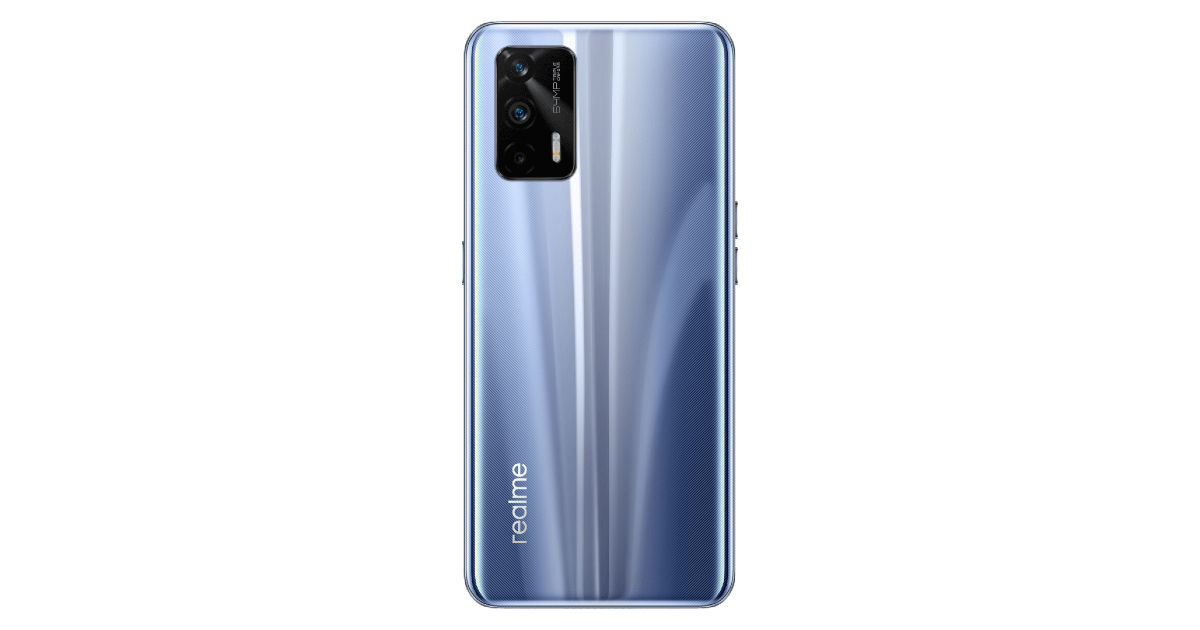 Realme GT 5G price
Realme GT 5G price in China is CNY 2,799 (approx Rs 31,400) for the 8GB+128GB model and CNY 3,299 (approx Rs 37,000) for the 12GB+256GB variant. It is available in Blue and Silver colours, and a Vegan Lether edition.
Realme continues with its relentless effort to attract buyers across all price segments. They had launched the X series few weeks back, and now it's time for something more powerful. For this you have the new Realme GT which sits alongside other affordable flagship peers in the market. This phone features a 6.8-inch OLED display, with support for Quad HD+ resolution at 1440x3200 pixels. This high quality screen delivers pixel density of 516PPI. The front display bears a punch hole design that houses the selfie camera. This is the latest Realme phone to use the octa-core Snapdragon 888 chipset from Qualcomm. The device gets paired with 12GB RAM for high-end performance. You get 256GB onboard storage that lets you download plenty of apps, as well as store photos, and videos. This GT phone from Realme offers a quad rear camera. The system consists of 64MP sensor, 8MP wide-angle sensor, 2MP sensor and 2MP depth sensor. While on the front, the phone gets 32MP sensor. Realme GT comes loaded with a 5000mAh battery with support for fast charging via USB Type C. Other features on the phone are on-screen fingerprint sensor, headphone jack and face unlock. Some of the popular Realme mobiles include the X7 Pro, 7 Pro and the X3 SuperZoom edition.
Realme GT स्मार्टफोन भारत में जल्द लॉन्च हो सकता है। लॉन्च से पहले रियलमी का यह स्मार्टफोन भारत के IMEI डेटाबेस में लिस्ट किया गया है। रियलमी का यह स्मार्टफोन मॉडल नंबर RMX2202 के साथ लिस्ट किया गया है। इस लिस्टिंग को सबसे पहले टिपस्टर मुकुल शर्मा ने स्पॉट किया है। रियलमी का यह स्मार्टफोन इस महीने की शुरुआत में चीन में Qualcomm Snapdragon 888 SoC, 120Hz AMOLED डिस्प्ले, 64MP प्राइमेरी कैमरा और 4,500mAh बैटरी के साथ लॉन्च हुआ है। Also Read - Realme 8, Realme 8 Pro की कीमत और स्पेसिफिकेशन्स लॉन्च से पहले लीक, जानें डिटेल
Realme GT 5G specifications
Realme GT 5G स्मार्टफोन में 6.43-इंच की FHD+ Super AMOLED डिस्प्ले मिलता है, जिसमें सेल्फी कैमरा के लिए पंचहोल कटआउट दिया है। यह डिस्प्ले का रिफ्रेश रेट 120Hz और मैक्सिमम ब्राइटनेस 1000nits और Corning Gorilla 5 सपोर्ट के साथ आता है। इस फोन में Qualcomm Snapdragon 888 5G SoC और ग्राफिक्स के लिए Adreno 660 GPU, 12GB LPDDR5 RAM, और 256GB UFS 3.1 स्टोरेज दिया गया है। Also Read - Realme ला रहा है एक और धांसू 5G स्मार्टफोन, 8GB RAM और 108MP कैमरे के साथ Geekbench पर हुआ लिस्ट
Realme GT IMEI has now been listed on the Indian IMEI database, launch seems imminent.#Realme #RealmeGT pic.twitter.com/6o9Fdl0Tfs

— Mukul Sharma (@stufflistings) March 22, 2021

रियलमी का यह स्मार्टफोन Android 11 पर आधारित Realme UI 2.0 पर रन करता है। इस फोन में 4,500mAh की बैटरी दी गई है जो 65W फास्ट-चार्जिंग सपोर्ट करता है। कनेक्टिविटी के लिए फोन में 5G डुअल-मोड 4G LTE, Wi-Fi 6, Bluetooth 5.2, GPS, 3.5mm हेडफोन जैक और USB Type-C पोर्ट दिया है।
कैमरा स्पेसिफिकेशन्स की बात करें तो Realme GT 5G स्मार्टफोन में ट्रिपल रियर कैमरा सेटअप दिया है। इस फोन का प्राइमेरी कैमरा 64MP का है, जिसके साथ 8MP का वाइड एंगल लेंस और 2MP का मैक्रो लेंस दिया गया है। इसके फ्रंट में 16MP का कैमरा सेंसर दिया गया है।
Realme GT 5G price
Realme GT 5G स्मार्टफोन का 8GB+128GB वेरिएंट को चीन में 2,799 CNY (करीब 31,400 रुपये) की कीमत में लॉन्च किया है। इस फोन का दूसरा वेरिएंट 12GB+256GB को 3,299 CNY (करीब 37,000 रुपये) की कीमत में लॉन्च किया है।
Highlights
Realme GT has appeared on

the Indian IMEI database with the model number RMX2202

The handset originally launched in China earlier this month
Realme GT India launch is currently being evaluated by the brand, as revealed by Madhav Sheth